Available in right, left, or back draw
Available in light and firm support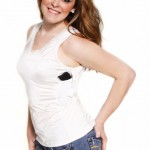 Like silk against your skin, the Vixen Reversible Tank allows you to say so-long to your spare tires! This firm support top banishes bulge with specialized compression panels and the decorative lace accents allow the Vixen to be worn underneath clothing as a pop of color or as the main piece.
With reversible draw
Available in light and firm support
Multiple colors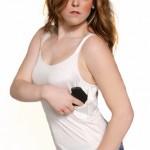 Similar to the Vixen, the Siren swapped the standard tank top look for something a bit more elegant. Adjustable, spaghetti straps. If you are looking for a classy accent piece or a way to keep cool, the Siren is the way to go.
With reversible draw
Available in light and firm support
Multiple colors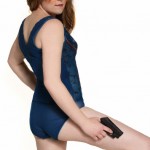 Not as constricting as a corset, but providing more support than the standard tank top, The Gunpowder & Lace Temptress Torsette smooths and shapes in all  the right places. Accommodating all body types, the Temptress rests just below the bra line, allowing you to wear your fanciest undergarments. Designed with hook and eye closures, you never have to worry about an uncomfortable fit.
Available in left or right underarm draw
No hooks, no straps, just you. Gunpowder & Lace spliced functionality with visual appeal and created the Minx. Providing the right combination of support and comfort, the Minx holster has been designed to stay where it is supposed to.
Available with or without a securing strap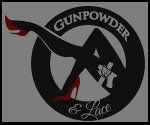 Fight panty lines and crime with the Spitfire thigh shaper. Created to banish bumps and bulges, the breathable fabric keeps you dry and makes you look exquisite. Don't worry; gawkers are not staring at your gun.
Available in left or right side draw
The "Cuff" Ankle Holster (2013)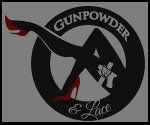 Rugged yet refined, our ankle holster is sturdy enough to withstand the most taxing activities but, at the same time, keep your firearm wrapped in security.
Gunpowder & Lace T-Shirt and Sweatshirt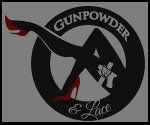 Get comfy in our super soft standard apparel. With a relaxed fit, the Gunpowder & Lace cotton shirts are perfect for when you are going out-and-about or lounging around at home. Available in a variety of colors for Men and Women, these are great to give as gifts or to have for yourself.
 NEW Products Coming in 2013
-Corset holster
-Boy shorts
-Lingerie
Gunpowder Line for Men (coming Jan 2013)